South Crofty tin mine goes into administration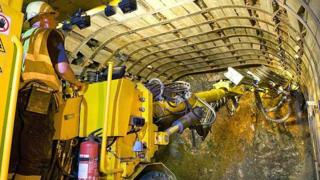 Cornwall's South Crofty tin mine has gone into administration.
Owner Western United Mines (WUM) blamed a failure to receive promised investment cash and said the move had been carried out to safeguard assets.
WUM said a "number of employees" would be made redundant. About 50 people work at the site near Camborne.
The company added it was looking for more investors because it still had "production and economic revival firmly in our sights".
Prices rising
South Crofty has been under redevelopment for the past 10 years.
Mining has been carried out at the site since the 16th Century, but production ended in 1998 amid more than a decade of falling tin prices.
However, for the past few years the price of the metal has been rising.
WUM had also planned to extract other metals, including zinc and copper, with the hope of creating at least 220 jobs.
Last October, metal yet to be extracted was valued at about $2.4bn (£1.5bn) in an independent mining expert's report.
The valuation was made by comparing the quantity of tin believed to be in the mine, about 7.95m tonnes, with then current markets.