Royal Cornwall Hospital 'fails to reach A&E targets'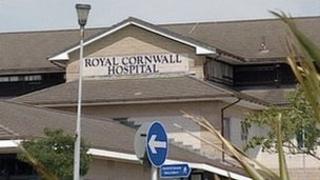 The A&E department at the Royal Cornwall Hospital (RCHT) is continuing to miss its targets for patient treatment times, bosses have admitted.
A four-hour target is set nationally for patients to be seen and discharged from A&E but the RCHT was failing to achieve the 95% standard all year.
It claimed the winter months and a "steady rise" in the over 75s attending the department, as reasons.
Andy Virr, RCHT consultant, says departments nationally, are struggling.
Mr Virr said: "The target is set at the 95% level and nationally A&E departments have been struggling with that. We have also, in Cornwall, had difficulty meeting that target.
"It's very important that no person in that chain blames anybody else, but looks to see what they can achieve themselves, so we're absolutely focussed here in A&E to make sure we can do what we can to do our part," he said.
Mr Virr said "nationally and locally, year on year, the number of patients coming to A&E is increasing".
He said there was also "confusion about where you should go on say, a Sunday afternoon with a sore throat and some other minor conditions", which he said was a "concern".