Collin Brewer 'disabled comments' case receives 180 complaints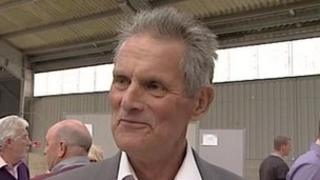 About 180 complaints have been made about a councillor who allegedly made derogatory comments about disabled children, the BBC understands.
Collin Brewer was recently re-elected after he resigned over his comments disabled children should be "put down".
Cornwall Council has been investigating alleged later remarks made to the Disability News Service.
Mr Brewer has said he did not intend to offend anyone and believed in the sanctity of all life.
A final decision on whether he breached the unitary authority's code of conduct has yet to be published.
'Good man'
Mr Brewer, who made his original remarks in 2011, was re-elected in Wadebridge in May.
The new remarks were allegedly made during an interview with the Disability News Service.
In the interview, he apparently linked disabled children to farmers killing deformed lambs.
After that was published, Mr Brewer told BBC News he valued all human life and his views had been taken out of context.
"I didn't intend to offend anyone and people will know that I really am a good man and I was just indicating an example of what's happened in the past," he said.
"I've always said I'm a Christian and I believe in the sanctity of all life."
'Lengthy debate'
Cornwall Council has carried out an investigation into whether Mr Brewer breached its members' code of conduct.
The results of the investigation were considered at a meeting on Thursday of the authority's Standards Committee, which is responsible for promoting and maintaining standards of conduct.
The findings have yet to be made public.
In a statement, the council said: "There was a lengthy debate on the findings of the investigation at the meeting and the views of members have been reported to the monitoring officer to inform his final determination of the complaints.
"A copy of the confidential report has also been provided to Councillor Brewer and his response was also considered at the meeting.
"The final decision and any sanctions to be imposed will be made by the monitoring officer within the next few working days."
However, the Liberal Democrat-Independent-led authority said it did not have the legal power to remove Mr Brewer as a councillor.