Households in arrears after council tax benefit cuts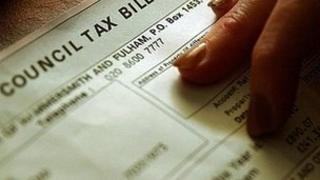 Thousands of low income families in Cornwall have gone into council tax arrears after benefit cuts.
About 20,000 working age people in the region, who previously would have had their council tax paid in full, are now being asked to contribute at least 25%.
Figures from the council show that since the changes came into force in April 6,000 people were now in arrears.
Cornwall Council's finance portfolio holder Alex Folkes said the figures "are worrying".
As part of the government's welfare reforms, council tax benefit has been devolved to local authorities - but with 10% less money.
The previous administration in Cornwall decided on plugging the funding gap by asking working age people to pay a quarter of their bill.
It also introduced a £1m hardship fund for a year for the most vulnerable.
Of the families in arrears, so far 1,000 have already had a court summons.
Mr Folkes said: "In the case of the very poorest who can't afford a fiver a week, that is very bad news.
"Anyone who has council tax problems, get in touch. We will listen. We don't want people to go down the court system."
The government said the localisation of council tax support would mean more help for people to avoid them having to go to court.
It said this was whilst delivering savings of £470m a year of taxpayers' money as well as giving councils stronger incentives to cut fraud and get people back into work.
Mr Folkes said although the council could not change the system this year they would review it and the impact of the other welfare changes for next year.