Many-fruited beardless moss decline fears in Cornwall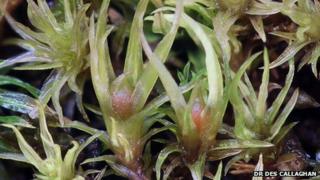 The global population of an "extremely rare" moss only found in Cornwall and Wales is in decline, scientists fear.
The many-fruited beardless moss has in recent years been recorded at four locations: three in Cornwall and at one in Wales.
However, Dr Des Callaghan, an expert on the moss, said it now only appeared to be in a "favourable condition" at two of those locations.
He said it was the "worldwide population of this species" and it was a "cause for concern".
'Deserves protection'
Dr Fred Rumsey, a botanist at the Natural History Museum, said "few living bryologists [moss experts] have seen the species".
He said: "In 2001, the total world extent of the moss was already less than 80 sq cm."
"It has only ever been found in fewer than 25 sites worldwide, with all but one site in England and Wales."
Dr Callaghan said the many-fruited beardless moss had been recorded in France, but it had not been seen for many years and was now believed to be extinct there.
He said: "Species are the products of millions of years of evolution and they're all unique in their own right."
He added that all species "deserved to be protected".
In the past, the moss has been found at three sites in Cornwall - one on the north coast and two on the south, which are both designated Sites of Scientific Interest - and at a location in Wales.
Dr Callaghan said it was "questionable" whether the moss still occurred at the site on the north Cornish coast.
'Tiny amounts'
"It used to be very short, coastal, intensely grazed grassland and that's the sort of habitat which it likes best.
"There hasn't been any grazing for some time and it's becoming overgrown.
"The moss has only been found in tiny amounts - a few square centimetres - for quite a number of years."
Cornwall Council, which owns the land, said habitat improvement work had been carried out, with more planned for the autumn.
At another site on the south coast of Cornwall, Dr Callaghan said the moss been found in "tiny amounts" but "the habitat was probably in decline in the long term".
He said: "It occurs on old Cornish hedge banks, but they're gradually becoming scrubbed over because there is no grazing.
"If the many-fruited beardless moss does occur there, then it's in an extremely small quantity and probably is in long-term decline."
Dr Callaghan said the moss was in a "reasonable quantity" at another location on the south coast of Cornwall and "things are looking good" there.
A spokesperson from Natural England said: "This rare moss thrives on bare ground and in open conditions and this site is in a favourable condition due to our ongoing programme of scrub clearance which accompanies the grazing already done by the local ponies.
"Together this is giving the moss the best opportunity to flourish, and we're delighted to see it doing so well here."