Pilot disputes Cornwall hot air balloon emergency landing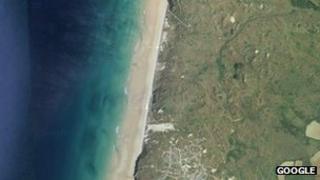 The owner and pilot of a hot air balloon, which was at the centre of a rescue operation in Cornwall, has said there was no emergency.
Three fire crews were sent to Perran Sands, near Perranporth, after reports it was making an emergency landing.
Cornwall Fire and Rescue Service was alerted by Newquay Airport at about 20:10 BST after reports the balloon had been "spinning".
But pilot John Armstrong said there had been a misunderstanding.
He added he was grateful for the emergency response - but it was not needed.
A spokeswoman from Newquay Airport said they had radio contact with the pilot who said the balloon was "rotating".
"We thought there could be a problem so we called the emergency services and advised them of the call.
"The balloon then landed where it had intended to at about 20:30," she added.
Mr Armstrong, from Newquay, said there were three passengers in the balloon and he made a normal landing at one of his regular sites.