Cornwall disabled row councillor Collin Brewer censured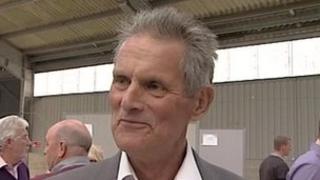 A councillor has been censured for his "grossly offensive" comments that linked disabled children to deformed lambs and banned from premises where services for the disabled are provided.
Collin Brewer, who said in 2011 that disabled children should be put down, resigned from Cornwall Council but was re-elected in May.
The council said it did not have the power to legally remove him.
Mr Brewer, 68, from Wadebridge, has been unavailable for comment.
A formal investigation started after Mr Brewer told the Disability News Service (DNS) he believed there was a good argument for killing some disabled babies with high support needs, because of the cost of providing them with services.
'Significant distress'
The independent councillor's comments sparked nearly 200 complaints to the authority.
Details of the council's decision have been published on its website.
It said Mr Brewer had seriously breached the members' code of conduct and the highest level of sanctions available had been imposed on him, including formally censuring him for his "outrageous and grossly insensitive remarks" and the "significant distress they caused".
The monitoring officer who led the investigation has also recommended that Mr Brewer should not sit on any committee that might deal with issues relating to disabled children, or other vulnerable members of the community.
'Frustrations shared'
Mr Brewer will not be nominated as the council's representative on any outside body involved with providing support for disabled children.
A statement said: "We recognise the strength of feeling on this sensitive issue and share the frustrations of members of the public over the limited sanctions at our disposal.
"The monitoring officer has made it clear that if the powers had still been available to the council he would have either recommended that Councillor Brewer be suspended, or referred the matter to the First Tier Tribunal - who would have had wider powers of sanction available to them."
Council leader John Pollard told BBC News he believed Mr Brewer was going to to resign.
"I do understand that Colin has informed the monitoring officer of his intention to resign from Cornwall Cornwall," Mr Pollard told BBC News.
Cornwall Council said nothing had been received in writing from Mr Brewer.
The council emphasised it had never had the power to "sack" councillors, although it could previously suspend them following the investigation and determination of code of conduct complaints.
However, government changes to the Code of Conduct complaints process last year means this sanction can no longer be used.
The council is considering writing to the Department for Communities and Local Government to express its concern over the removal of the authority's power to impose "meaningful sanctions".