Gillian Tuckman's pension stopped after death 'error'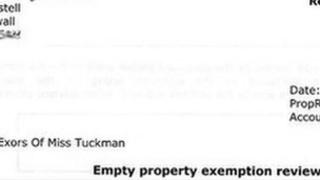 A woman's pension was stopped when her "death" was mistakenly registered by the Department for Work and Pensions.
Gillian Tuckman, 66, from St Austell, in Cornwall, was unaware of the mistake until Cornwall Council sent a letter to her "executors" offering its condolences.
She said what has distressed her most was her "death" was registered as the date her son died in March.
The DWP said "human error" was responsible for the mix up.
"We apologise to Miss Tuckman for the mistakes made at this very distressing time. I can confirm that all benefit payments have now been paid," a DWP statement said.
Cornwall Council said it also offered its "unreserved apologies" to Miss Tuckman.
It said it had received two electronic notifications from the DWP advising of a death on 19 March 2013 and quoting Miss Tuckman's National Insurance Number.
"On 2 July an assessor acted on these notifications and wrote a letter addressed to Miss Tuckman's executors as is usual in such circumstances," the council said.
It said when Miss Tuckman contacted the council, it reinstated her council benefit "immediately".
"Once again, the council apologies for the distress caused to Miss Tuckman at what is already such a difficult time."
But Miss Tuckman said while both the DWP and council have apologised "to the media" they have not said sorry to her.
System 'glitch'
"But more than an apology, what I really want is an explanation as to why it happened and some reassurances it won't happen again," she told BBC News.
"I'm very much alive and kicking and I've been able to deal with it, but to find out I "died" on the same day as my son was really distressing."
Miss Tuckman said when her son, Michael Halton, died in March, she contacted the DWP to see if, as a pensioner, any funeral assistance was available.
"He's got a different surname because I reverted to my maiden name, but that's the only possible thing I can think of.
"Mistakes happen, but I've had no explanation or apology - just a rather blase 'It's just a glitch in the system'."