Fifteen coasteerers rescued from Newquay rip current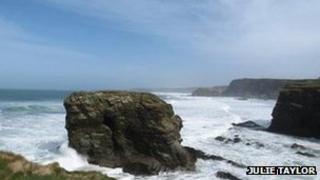 Fifteen people have been rescued after getting caught in a rip current while coasteering in Cornwall.
The group, which was making its way back to Porth Beach in Newquay, was seen struggling against the current, the RNLI said.
Lifeguards with rescue boards paddled out to the group and a small rescue craft assisted the 15 people back to the shallows so they could return to shore.
There were no reports of any injuries.
The group had been exploring Porth Island.
Lifeguard Senn Woodfinden said a combination of waves and a cross-shore wind at the same time as a low spring tide created "some of the strongest rip currents I've ever seen around Porth Island".
Coasteering is a physical pursuit in which participants make their way along the tide line of rocky coastal areas on foot or by swimming.
Lifeguard supervisor Anton Page said the group got into difficulties despite being properly equipped for coasteering.
He said: "This was an organised group and they were all wearing appropriate safety equipment for the activity.
"However, the sea is a dynamic and challenging environment, and situations like this can occur."