North Cornish rip currents spark 70 rescues in seven days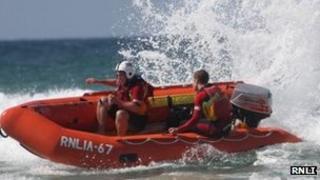 Seventy people were rescued from rip currents off 16 beaches in Cornwall last week, the RNLI has said.
The charity said the start of the summer holidays had coincided with "some good surf and very low tides", which exposed the currents.
A rip current is a narrow current of water which runs perpendicular to the shoreline out to sea.
The RNLI said, although conditions should be more settled, people should take extra care in the water.
Brothers rescued
All the rescues were on the north coast.
On Saturday, two brothers were rescued from Chapel Porth beach, when their body boards were caught in a rip current and they were pulled out to sea.
"The tide was dropping and as it did so, we were moving the bathing flags to ensure they were in the safest place," senior lifeguard Tom Evans said.
"The two boys were on the edge of the flags and had not yet moved further in when the rip current pulled them further out of their depth."