Council to look at a toilet brown sign scheme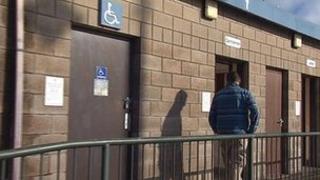 A "brown sign" scheme for business owners who open their toilets for public use is being considered by Cornwall Council.
The council has cut its funding for toilets and future budgets are still under negotiation.
More than 30 public toilets in the county - about 10% - are closed despite the peak tourist season.
Councillor Edwina Hannaford said the council knew how important toilets were for residents and tourists.
Mrs Hannaford, cabinet member for environment, heritage and planning, said: "I am working on a community toilet scheme with businesses, linked to a brown sign, saying those businesses have opened up their toilets.
"Some businesses see it as enhancing their business. I know how important toilets are to residents and visitors.
"We have to find creative ways to keep them open but it's going to be tough."
Users charged
Last year, Cornwall Council announced it had been forced to review its non-statutory services because of funding cuts.
Parish councils have taken on the maintenance and cleaning of some public toilets, with some charging users.
Other public conveniences, like services in Boscastle and Marazion, are charging users, while others may only open at weekends.
Last month Malcolm Bell, the head of Visit Cornwall, said: "If visitors are really annoyed about facilities, they won't come back.
"They will bad-mouth us and cause us lost business in the long term."
There are almost 300 public toilets across the county, which was costing Cornwall Council more than £1m a year to clean.