Truro sewerage work time reduced after business fears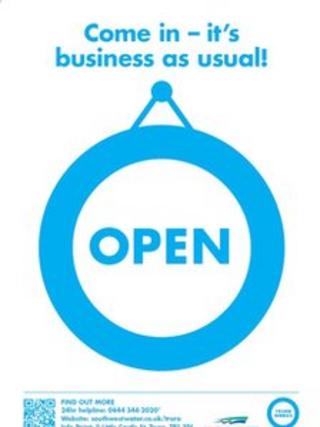 A major scheme to renew Truro's main sewer network will finish five months earlier than originally planned, managers say.
South West Water (SWW) said in January the "essential" work would take 60 weeks. Businesses claimed it could have a "catastrophic" impact on trade.
The water firm said it had been able to reduce the £3m programme of work from 60 weeks to 40.
It added it was helping promote a "business as usual" message.
Work to replace the sewers in Frances Street, Kenwyn Street and Little Castle Street will begin on 2 September.
'Minimise impact'
SWW said the existing network was no longer able to cope with demand and, if action was not taken, about 30 properties would be at risk of internal or external flooding.
But engineering director Graham Murphy said since the concerns of businesses had been raised, SWW had worked closely with local traders and other interested parties.
"We are aware that this essential work will cause some disruption in the city, which is why we have been and will continue to work closely with the local community to put in place measures to minimise the impact on local residents and businesses," he said.
"We have also commissioned a Truro-based marketing agency to help us promote the 'business as usual' message to shoppers while work is ongoing, and we would urge the people of Truro to continue to support their local traders during our work."
SWW would ensure Victoria Square would be open to traffic in time for the City of Lights Festival on 20 November, Mr Murphy added.