Truro Waitrose objections rejected by High Court judge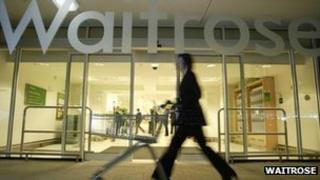 A multi-million pound development in Cornwall will go ahead after objectors lost their High Court appeal.
The Truro East development will include a Waitrose supermarket, Cornish food hall, waste and recycling centre, park and ride, and nearly 100 homes.
Cornwall Council approved the plans last year, but Truro City Council and some retailers objected.
Their claims that agricultural land would be lost and city centre trade damaged were dismissed.
Judge Frances Patterson QC rejected all the grounds of the challenge, ruling that the county council's consent had followed a lengthy planning process and was based on views that the development was sustainable and would contribute to a strong local economy.
'End of road'
The £40m development, on Duchy of Cornwall land, is expected to create about 200 jobs.
Truro City Council said it was unable to comment, but Rob Nolan - a city and Cornwall councillor - said he was "disappointed and angry".
"Obviously we'll need to sit down and talk about it, but realistically I think this is the end of the road," he told BBC News.
Cornwall Council said it hoped work on the park and ride element of the scheme could begin in November, with the the remainder of the development following in later stages.
"It is envisaged that the project will reduce local road congestion and emissions, improve journey time reliability, provide quality affordable housing and promote Cornish produce," a statement said.