Ex-Cornwall Council employee payouts cost public £1.7m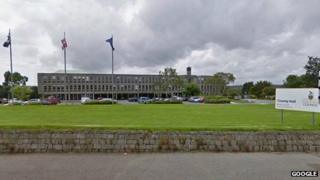 Ex-Cornwall Council employees were paid nearly £1.7m in "compromise agreements" to not challenge their departure.
In four years, 135 were signed. The contracts frequently include confidentiality clauses to prevent ex-staff from talking to the media.
MP Andrew George said any use of such agreements by an organisation helped "create unjustified secrecy".
The council said the agreements were "not a regular or frequent approach" and could resolve "complex issues".
It added it could not say how many compromise agreements contained confidentiality clauses.
Cornwall Council said the payouts included staff employed by the authority and those in maintained schools - where the individual school would pay for the agreement.
The authority said that of the 135 agreements, 67 of those related to schools.
'Difficult to justify'
Liberal Democrat Mr George said he was "conscious" that many of the agreements were not within control of Cornwall Council, and that for some it was down to schools making the decisions.
He also noted that some of the agreements were made under a different administration at the council than the one at present.
However, he added: "I find that, having studied [in government committees] how these compromise agreements are used in other areas to pay off former staff, they are used to far greater excess than is in any sense justified, and at great expense to the public purse as well.
"In this apparently new era of transparency, where all public services should be learning from mistakes instead of covering them up, we should be seeing far less use of them because it's difficult to uncover what the justification for their use is.
"We're spending public money to create a cloak of unjustified secrecy."
'Costs reduced'
In a statement the Lib Dem/independent-led authority said: "It [a compromise agreement] can be a helpful route for settling matters in the mutual interests of the council and individual employees.
"This is particularly true where the issue is complex or sensitive because a compromise agreement ensures that the risks and costs associated with addressing the issue through the normal processes and procedures are reduced."
It added the agreements "do not typically commit the council to significant additional expenditure" compared to alternative options.
Local government minister Brandon Lewis said: "We've been very clear that legal devices like non-disclosure or compromise agreements should not be used to reward failure or 'gag' staff.
"Local government has a responsibility to the public and transparency is at the heart of that. How taxpayers' money is spent must be democratically accountable and open to scrutiny by the public.
"That's why I have asked all local authorities to increase transparency and accountability on severance payments."
A compromise agreement is reached after an employer and employee disagree about a workplace dispute, resulting in the employee leaving with a payment combined with a confidentiality clause.
This means both the employer and employee will not speak publicly about their disagreement.
Cornwall Council has a direct workforce of more than 6.170 staff and also employs almost 7,000 people in maintained schools.