Cornwall 6% council tax increase calls rejected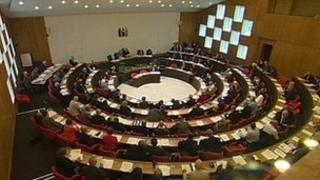 Cornwall councillors have rejected calls for a 6% council tax rise but will consider a 1.97% increase.
The majority of the council's cabinet voted against the larger percentage option being explored further at a full council meeting.
The cabinet's proposal of a smaller increase will be debated at a full council meeting in November.
The cabinet also voted to stop claiming free meals while they are on business at County Hall in Truro.
Supporters of the 6% increase said it was needed in the face of cuts, while opponents argued it would have meant a costly referendum.
'Need for increase'
Alex Folkes, the Liberal Democrat cabinet member for finance and resources, said it was "good to have a debate to look at all the options".
"I don't think it's right to ask people in Cornwall to pay more than they have to.
"A 6% hike in the bill would be a wrong one."
Independent councillor Bob Egerton, who put forward the motion for the larger increase, said he was "surprised at how few of the councillors were prepared to think about a more significant rise in council tax".
"Ultimately people accept the need for an increase in council tax, but they fear a referendum."
Jade Farrington, the Liberal Democrat councillor who proposed the ceasing of free meals, said it was "a gesture".
"It is only going to save about £15,000, but I think it's important that we are willing to take cuts too."
The meeting also saw the approval of the appointment of Andrew Kerr as the council's new chief executive.
Mr Kerr, who is currently the chief operating officer at Cardiff Council, is expected to take over the reins in the New Year.
The appointment follows Kevin Lavery's departure earlier this year for a job in New Zealand.