Skipper Sam Goodchild welcomes Transat safety delay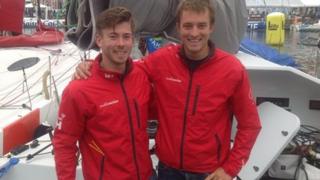 A decision to postpone the start of the Transat Jacques Vabre yacht race has been welcomed by a Cornish skipper.
The race was due to get under way at Le Havre on Sunday, but was delayed for safety reasons after strong winds were forecast to hit the French coast.
The event, which is in its 20th year, will now start at 13:15 GMT on Monday.
Falmouth yachtsman Sam Goodchild said he believed it was the right thing to do.
'Podium finish'
"You're going to get some strong winds at the start whatever happens," he said.
"I'm quite happy with the decision... it's a better solution than if we'd started tomorrow."
Skippers from all over the world will cover 5,500 miles as they race from Le Havre down to the coast of Brazil in South America.
Goodchild and his co-skipper Ned Collier Wakefield will be racing their new yacht "Concise 8" in the Class 40 fleet.
Despite the decision to delay the start of the race, the skippers said they remained upbeat about their chances of a podium finish.
In 2011, the pair were in the lead when damage to their yacht forced them to withdraw from the race.