Newquay surfers praised for woman's rescue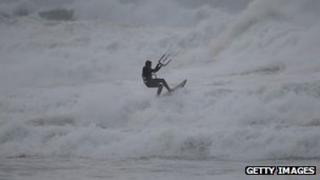 Three surfers saved a woman after she was hit by a large wave and pulled underwater off the coast of Cornwall.
The 38-year-old woman from London was surfing at Fistral Beach in Newquay when the accident happened on Friday afternoon.
The surfers put the woman on to a board and paddled out to sea past the breaking waves to wait for the Newquay lifeboat.
The woman was taken to the Royal Cornwall Hospital in Truro.
Rescuers Jordan Henwood, Will Eastham and Dean Scott were praised by the RNLI and Falmouth Coastguard for their bravery and quick thinking.
"They did a very, very good job in getting to her in the first place and supporting her until the lifeboat arrived," deputy launching manager Geoff Brown said.
"It is any guess what would have happened if they hadn't been there - their prompt action and bravery made a huge difference."
Ken Beazley from the Maritime and Coastguard Agency said: "Thank goodness people do assist each other in these conditions... they played their part and we are grateful they assisted."
Mr Eastham, a 36-year-old retained fireman at Newquay, said a 3m (10ft) surge swept the woman off her board and she was dragged under the water.
'Different story'
Mr Henwood initially tried to pull the struggling woman up onto rocks, but a second "massive" wave hit the pair and swept them back into the water, so Mr Scott went to help Mr Henwood while Mr Eastham pulled the woman on to his surfboard and started paddling further out to sea.
Mr Eastham said: "We took her quite far out where the waves weren't breaking.
"Luckily for her there were people around - it could have been a very different story."
Mr Brown said the woman, who has not been named, suffered cuts to her feet, a dislocated finger and had swallowed sea water, but appeared to be in a "remarkably good condition given her ordeal".
He said the large waves had been "stirred up" by a storm brewing in the Atlantic.
"People need to be extra careful if they are in or on the water," he said.