Badgers given TB vaccine in west Cornwall trial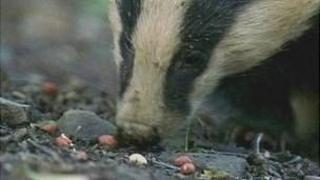 Badgers have been given TB vaccines in west Cornwall as part of a new trial.
Four out of the 12 badgers known to be living in the trial area had been vaccinated, Rosie Woodroffe, a professor in animal disease, confirmed.
Prof Woodroffe is working with local conservationists to deliver the vaccinations.
The National Farmers' Union (NFU) said it supported vaccination but had questions over the effectiveness of the programme.
The £2m scheme is seen as a possible long-term alternative to culling in work to tackle TB in cattle.
Weather dependent
Prof Woodroffe, of the Zoological Society of London, said they planned to vaccinate more of the badgers this week.
However, she said this was dependent on the weather and that heavy rain and cold temperatures could hamper the progress.
Four farmers are taking part in the pilot vaccination programme.
Prof Woodroffe said if the project could secure funding, it was expected to expand over the next three years to cover 200 sq km (77 sq miles) of the Penwith area, and could begin in spring 2014.
She said the four badgers were vaccinated on 26 October.
Elsewhere in England, badger cull pilot schemes have been taking place in west Somerset and Gloucestershire to see if that method can control the spread of the disease.
Ministers and the National Farmers' Union said culling was needed to control incidents of TB in cattle.
About 28,000 cattle were slaughtered in 2012, at a cost of £100m to taxpayers, because of TB.
Secretary of State for Environment, Food and Rural Affairs Owen Paterson said the culls were "designed to test that controlled shooting is a safe, humane and effective means of reducing badger numbers".
However, animal welfare groups have said scientific evidence does not support the policy of shooting badgers in an attempt to control the disease.