St Petroc's homeless charity given £149k grant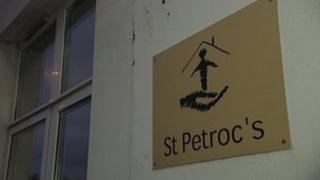 Nearly £150,000 of funding has been awarded to a charity in Cornwall that supports homeless people, managers say.
The St Petroc's Society's said its Cornwall Together project had been granted £149,000 by the government.
The money will be spent on work tied to the national No Second Night Out initiative.
The charity said there were estimated to be 50 people sleeping rough each night in the county and many were "simply not aware" of help available.
No Second Night Out (NSNO) was originally launched in April 2011 as a pilot project in London, and the government wants to see it rolled out across the country.
It aims to ensure anyone who ends up on the streets gets help quickly so they do not spend a second night sleeping rough.
The St Petroc's grant is part of a £20m Homelessness Transition Fund, which is financed by the Department for Communities and Local Government.
Charity chief executive Steve Ellis said the grant was "good news for Cornwall".
He said: "This is a further investment in trying to provide as comprehensive a service as possible to meet the needs of the street homeless in Cornwall."