Child migrant reunited with brothers after 43 years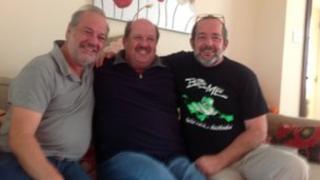 A former child migrant has met his brother for the first time since 1970, when he was deported from Cornwall to Australia.
Kevin Wilton, then nine, and his brother Rex, 10, were on the last plane to Australia carrying child migrants.
There was a tearful reunion in Cornwall as Kevin had not seen his oldest brother Bruce for 43 years.
Bruce Wilton said it was "fantastic, something I thought I would never be able to do".
Mr Wilton said: "I tried to contact him. We were cut off. I thought I would never ever see him again."
On 10 December 1970, Kevin and Rex boarded a plane for Australia.
They were among the last of the child migrants who had been sent over the years to places like Australia, Canada and South Africa.
Since the 1920s, Britain had transported children as young as four. Many had been abandoned or orphaned, but some still had family.
The scheme was strongly condemned by Gordon Brown when he was prime minister and Australian Prime Minister Kevin Rudd made a national apology to the children in 2009.
Rex and Kevin last saw each other 21 years ago.
Rex has met Bruce on several occasions since returning to Cornwall in the 1990s but Kevin and Bruce had not seen each other for 43 years.
Kevin Wilton said: "You don't forget about your brothers, but now we're all together for the first time."
Rex Wilton said: "We are only together for a short time and we've got to make the most of it. We've done things recently that we haven't done since we were kids."