Cornwall could get European 'recognised minority' status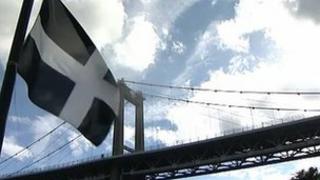 Cornwall could be recognised as a national minority by the Council of Europe if a government submission is successful.
MP Stephen Gilbert asked the local government minister when the Cornish would be included in the CoE Framework Convention for National Minorities.
The framework aims to protect the rights of minorities.
Minister Stephen Williams said Cornwall Council would be asked to contribute to a submission being made next year.
The framework says the "upheavals of European history have shown that the protection of national minorities is essential to stability, democratic security and peace in this continent".
It also says "a pluralist and genuinely democratic society should not only respect the ethnic, cultural, linguistic and religious identity of each person belonging to a national minority; but also create appropriate conditions enabling them to express, preserve and develop this identity".
Mr Gilbert, the Liberal Democrat MP for St Austell and Newquay, told Mr Williams in the House of Commons Cornwall's unique "language, identity and culture" meant it deserved official recognition.
Responding to Mr Gilbert in the House, Mr Williams said that, "as a Welshman myself", he "entirely sympathised with what was said about our Celtic cousins".
He added: "The UK is going to make a submission in May 2014, and the government is going to ask Cornwall Council to contribute to that submission."