Hayle Wave Hub: First device to be plugged in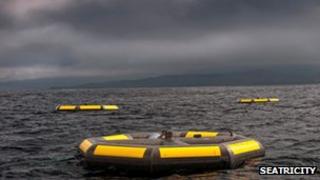 An electrical "socket" on the seabed off Cornwall will be used for the first time next year.
Wave energy company Seatricity is to plug a device into the Wave Hub project which tests renewable energy ideas.
The experimental device uses octagonal aluminium floats to capture wave energy by pressurising seawater. In turn this drives a turbine which produces electricity.
The £42m Wave Hub has been unused since it was installed in 2010.
It consists of a giant "socket" on the seabed which is connected to the power grid by an underwater cable.
The Wave Hub - which is publicly-owned by the Department for Business, Innovation and Skills (BIS) - aims to allow companies to test their devices in the waters 10 miles off Hayle.
'Important step'
After carrying out sea trials in Scotland, Seatricity said it is now ready to plug its "generation Oceanus 1" device into the hub - which will be the project's first paying customer.
The company said it will be basing its custom boat in Hayle and it eventually hopes to tie a number of its devices together to make an array, also known as a wave farm.
Johnny Gowdy, from Regen South West - a not-for-profit organisation which promotes renewable energy, said: "The final array Seatricity are planning will be 10MW, which in wave energy terms is a very big project indeed, in fact it will be the first major array in the UK.
"It is exactly what Wave Hub has been designed to test, large deployments, at sea, in a pre-commercial environment, before we move on to full size commercial projects."
Mr Gowdy added: "It has taken some time, the technology has been slower to develop than we anticipated and this is difficult, just getting the finance together and the backing for these projects, does take time."
Julian German, Cornwall Council's cabinet member for economy and culture, said: "Cornwall is incredibly well placed to become a national and world leader in marine renewable technology, and this investment signifies an important step on the road to achieving that goal."
The hub is operated by Wave Hub Limited, which manages the day-to-day operation of the testing facility on behalf of BIS.