Bodmin nurse Gideon Bryant denies inappropriate relationship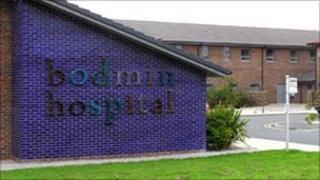 A 48-year-old staff nurse has been accused of having an inappropriate sexual relationship with a 19-year-old former mental health patient.
Gideon Bryant met the "vulnerable" teenager when she was admitted to Bodmin Hospital's psychiatric intensive care unit in Cornwall.
A Nursing and Midwifery Council hearing was told she "fixated" on male staff and was at risk of exploitation.
Mr Bryant has denied the charges. The hearing continues.
The NMC was told Mr Bryant claimed a "loving and sexual relationship" with his former patient - referred to as Patient A - began after she was discharged.
One-to-one sessions
She was admitted to Bodmin Hospital after being sectioned under the Mental Health Act in January 2011 with a borderline personality disorder.
Mr Bryant was involved in one-to-one sessions as part of her treatment and would have been aware of her mental condition, the NMC was told.
Four days after being transferred to another mental health facility in Devon on 10 February, Mr Bryant sent her a Valentine's email, the hearing was told.
The staff nurse was given an NMC interim suspension order last year.
He is accused of sending Patient A inappropriate emails and having photographs taken of them kissing and embracing - some of which she sent to Mr Bryant's superior.
Bar meetings
Bernard Keaney, who carried out an internal investigation at the hospital, said a sexual relationship between a vulnerable patient and a health care professional would "almost never be appropriate".
He said the patient was still subject to an order under the Mental Health Act when she left Bodmin Hospital - and that Mr Bryant was aware of this.
"He agreed they were in a relationship, but said it didn't start until she was discharged fully in July 2011," said Mr Keaney.
The hearing was told Mr Bryant "bumped into" the teenager a number of times in bars in Plymouth and, because a friendship was forming, asked his ward manager for guidance.
"When the relationship went further he didn't raise it with anyone because Patient A was under a different (NHS) trust," Mr Keaney said.
"It was a sexual and loving relationship and on 11 October 2012 she moved into his house."
Mr Keaney said Mr Bryant ended the relationship three months later "because things were getting difficult".
The NMC hearing is listed for three days.
Cornwall Partnership NHS Foundation Trust said Mr Bryant's employment at Bodmin Hospital was terminated after the internal inquiry.