Calstock homes cut off after road collapses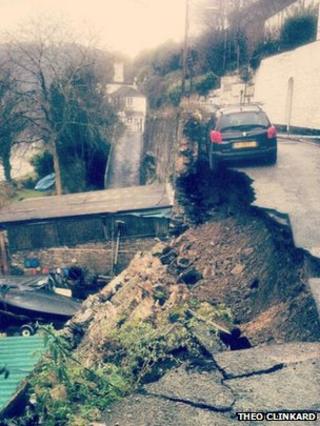 Part of a Cornwall village has been cut off after a section of road collapsed following heavy rain.
At least 20 homes in Calstock are without road access after the landslip on Lower Kelly on Christmas Day.
Fire crews have moved a car to safety which was perched on the edge of the road following the slip.
Resident Thierry Lauze said he had to borrow a car because of the collapse as "unfortunately, I think our car is going to stay here for a long time."
The rainfall on Monday and Tuesday led to homes in south-east and south-west England being flooded.
Many rivers remain swollen after the storms, which led to power cuts and travel delays, but in Cornwall, Western Power Distribution reported that electricity had been restored to all homes and businesses who suffered cuts earlier this week.
The Environment Agency has warned that there could be further significant flooding in parts of southern England as heavy rain and high winds is forecast across the UK.