New Zealand Police 'confident' body is of British hiker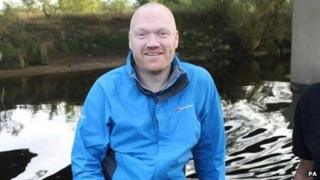 Rescuers in New Zealand are "confident" the body they have recovered at the bottom of a 300ft (100m) cliff is that of a missing hiker from Cornwall.
Andrew Wyatt, 41, from Penryn, was last seen on 15 December when he set out on what was intended to be a one-day hike in a mountainous area of the South Island.
The body has yet to be formally identified.
Bad weather had previously hampered the search effort, police said.
The body was found on Friday by a search and rescue team below Lake Constance Bluff.
Search co-ordinator PC Dave Cogger said the man had an "unsurvivable" fall.
"Police say they are confident the body recovered from Nelson Lakes National Park on Friday afternoon is that of missing British man Andrew Ian Wyatt," a New Zealand police spokesman said.
His family has been informed.
On the day he went missing he left the Blue Lake Hut to walk to Waiau Pass and was due to collect a food package on 16 December
Mr Wyatt had arrived in New Zealand in November and was walking the 1,900 mile (3,000km) Te Araroa Trail, which runs the entire length of the country.