Homeless hostel plans under threat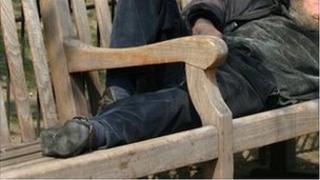 Plans for a new homeless hostel in Cornwall are likely to be shelved because of budget pressures, according to the council.
The number of people sleeping rough in the county has risen by 50% since 2012, figures show.
Cornwall Council, which in November approved £43m of savings, has yet to vote on the issue.
The cabinet member for homes and communities said the money would be better spent on homeless charities.
The planned 30-bed hostel would have annual running costs of £500,000, the council said.
It argued the single location did not meet needs which are spread out across the county, and there needed to be more practical support in more locations.
Councillor Geoff Brown, the cabinet member for homes and communities, said: "Had we proceeded with a decision to build that it would have committed us to on-going revenue costs every year of half a million pounds.
"We think we can make that provision much more cost effectively by working with other organisations."
The latest figures reveal there are 77 rough sleepers on any one night in the county, an increase on the 2012 figure of 50 people.
The homeless charity St Petroc's said this figure was a fraction of the true number.
This month the charity starts a new scheme for people who find themselves sleeping on the streets for the first time.
The government-funded advice service aims to stop people spending a second night sleeping rough.
Richard Bryant, from the charity, said: "In partnership with other agencies, we have received funding to provide a 'No Second Night Out' service for Cornwall, so we can provide people with an assessment service to help them move away from the street within 72 hours."
St Petroc's Society was formed in 1986 offering support to homeless people in Cornwall.