Breeding home built for crocodiles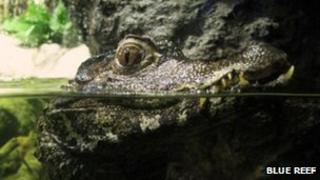 Aquarists at a Cornish attraction have built a special shelter for a pair of caiman crocodiles to encourage them to breed.
The floating shelter built by staff at Newquay's Blue Reef, is designed to mimic conditions in the wild.
Staff at the aquarium said the pair have become more active since discovering their new shelter.
The dwarf caiman is the smallest surviving member of the crocodilian family found in the Americas.
Blue Reef's Steve Matchett said: "Caimans use burrows in the wild in which to shelter.
"They have both been investigating their new shelter and have become a lot more active since we put it up. Hopefully it won't be too long before they start laying eggs."
Fully grown adult males reach up to 1.6 metres in length.
In the wild the caiman build nests out of rotting vegetation. The heat generated by the decomposing plant matter helps to keep the eggs warm.