Records chart 400 years of life at Lanhydrock House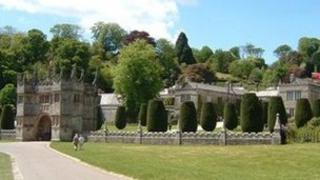 Records charting life at a stately home back to the 16th Century will be made available to the public.
Cornwall Record Office has been awarded £25,000 to reveal the contents of an archive charting 400 years of life at the National Trust's Lanhydrock House.
The collection tells the story of the Robartes family, who owned Lanhydrock House until 1953.
The grant, from the Cataloguing Grants Scheme, will allow the record office to clean and catalogue the collection.
The records include papers from the English Civil War era, records relating to the rebuilding of the house after a fire in 1881 and more than 500 plans of properties and land.
Paul Holden, House and Collections Manager at Lanhydrock, said; "The Robartes family were one of the most notable gentry families in Cornwall and this collection tells their story.
"Who knows what we may uncover in this project? My hope is that we can facilitate future research by having a better understanding of what is in the archive."
The Cataloguing Grants Scheme is sponsored by a range of charitable foundations and administered by The National Archives.
It aims to help archives in the UK tackle their cataloguing backlogs.