Jacob Cockle inquest: Coroner issues whirlpool warning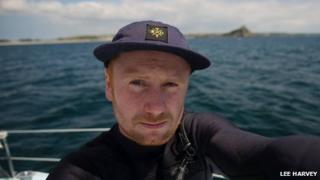 A coroner has warned swimmers to stay away from a Cornish harbour notorious for whirlpools following the inquest of a man who died there.
Jacob Cockle, 28, was found floating face down at Carnsew Pool in the Hayle Estuary on 28 May.
The inquest in Truro heard Mr Cockle had traces of the drug ketamine in his system.
Coroner Andrew Cox, who recorded a verdict of accidental death, said it was a "tragic event".
Mr Cox said it should "be a warning to anyone else contemplating swimming in the same area".
'Risk taker'
The inquest was told Mr Cockle had asked a friend to hand him a small camera on a pole and that he planned to swim underwater.
He then disappeared into the whirlpool, having been sucked down by the fast-moving water, and was dragged through a 40ft (12m) sluice tunnel.
He was then swept 80 yards (73m) into Carnsew Pool before being rescued and airlifted to the Royal Cornwall Hospital in Truro where he was confirmed dead.
Toxicology reports later found traces of the the illegal drug ketamine in his body.
His friends and family described him as a risk taker but one who assessed the risk before going ahead.
Carnsew Pool was built in 1830 to harness the power of tidal movements to flush sand from the harbour and is now part of a nature reserve.
Its sluice gates have been fenced off because of whirlpools and signs erected warning people not to swim.
Whirlpools are ocean or river currents that move in a rotating direction, produced by rising and falling tides. Some exhibit a downward pull, called a vortex.