Angler swept into sea by large wave in north Cornwall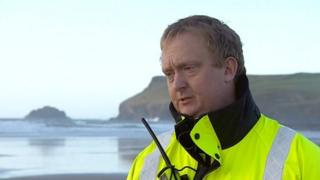 An angler is missing, feared dead, after being swept into the sea by a large wave in north Cornwall.
The 22-year-old man, believed to be from Plymouth, was on rocks near Polzeath, fishing with a friend.
Lifeboats from Padstow, Port Isaac and Rock were involved in the search, as well as a helicopter from RNAS Culdrose and the Polzeath Coastguard.
The search was called off on Wednesday evening and is likely to resume on Thursday.
The man's friend contacted the emergency services at about 10:00 GMT and told them the angler had been washed into the water by a large wave.
Coastguards said the sea conditions were moderate to rough, with large waves in the area, when the search operation began.
Matt Pavitt, the coastguard sector manager for North Cornwall, said: "This wave was significantly bigger than the others they had seen and it came up and washed his friend off the ledge and into the sea.
"We understand he was wearing jeans, a hoodie and trainers. I have to say now, a number of hours into the incident, unfortunately we're looking at probably not a great outcome.
"The chances of survival in these sea conditions are slim."
The search for the man was called off after about five hours.
Coastguards said it was likely there would be another search at low tide on Thursday.