Mevagissey landslip: Road damaged and car trapped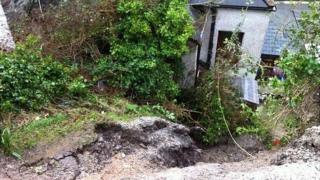 Heavy rain has caused a landslip, which has damaged a private road and trapped a car in a Cornish village.
Part of a private access lane leading to Prospect Terrace in Mevagissey has slipped about 16ft (5m) into a garden below.
No-one is thought to have been injured in the slip.
Cornwall Council said it was not responsible for repairing the road but would be ordering fencing to help ensure the area was kept safe.
Resident Mike West said the fall happened at about 07:00 GMT.
He said: "My front gate is about 7ft (2m) away from what remains of the lane.
"I have no concern for my property at the moment but I don't want anymore land to go."