Minack Theatre replica constructed in Spain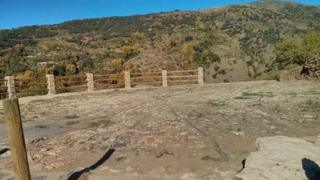 A replica of an open air cliff-top theatre in Cornwall is being created in southern Spain.
Anna Kemp, 43, is making replica near Grenada of the Minack Theatre at Porthcurno.
The theatre is being built on a former corn threshing circle in Laroles; a village Ms Kemp visited while working as a film script supervisor.
The Spanish government has given £40,000 in grants and the village has donated the land to the project.
'Naturally majestic'
Ms Kemp, 43, who has lived in the area for the past 10 years, said: "It's a rural area and it's been hard hit by the economic climate.
"The area has a lot of the quirkiness that Cornwall has, but no sea.
"It is also high up so it is naturally majestic and will make a brilliant space for theatre."
The first performance is due to take place in August.