UK storms: Cornwall plea over £25m storm repair bill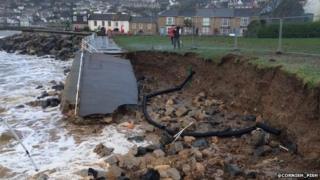 Government funding is needed to help pay for up to £25m worth of damage caused by the recent storms in Cornwall, a senior councillor has said.
Cornwall Council hopes to receive £4m from the government but said it needed more help to address a funding gap of up to £21m.
Building projects could be at risk or reserves used, if the government could not help, councillor Alex Folkes said.
The government said it was determined to help storm-hit communities.
Mr Folkes, the Liberal Democrat cabinet member for finance and resources, said: "We are potentially looking at a bill of £25m... ultimately we fear that we're going to have to pay a large chunk."
He said he hoped the council could receive up to £4m of money from the Bellwin Scheme - which was introduced in the 1980s to provide some government support for flood-hit areas, but only provides funds for temporary flood measures.
'Abandon capital projects'
Mr Folkes said: "We know there's at least £17m, perhaps as much as £21m, that is the long-term infrastructure repair [bill] which is just for Cornwall Council and not for private owners.
"We have talked to the government and said this is our problem, we want you to help and we're still talking to them.
"Ultimately if they refuse, we will need to abandon capital projects such as the maintenance of some roads and buildings or we will need to use our reserves."
Mr Folkes said that if the reserves were used up the authority "will not be able to withstand emergencies in the future".
The Lib Dem/independent-led authority is expected to approve about £43m of savings later.
The government said it was determined to do everything possible to help those communities affected to recover as quickly as possible.