Jason Blight in 'miraculous' tree fall escape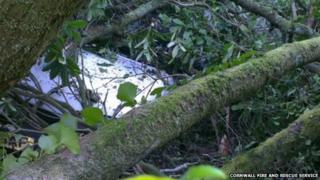 A man escaped serious injury when the van he was driving was crushed by a falling tree in Cornwall.
The accident happened on Monday afternoon on the main A3038 on the Lizard.
Cornwall Fire and Rescue Service said that when the tree fell, large branches came down around the main body of the van, leaving the driver, Jason Blight from Hayle, "miraculously" unharmed.
The road was closed overnight and the tree was later removed from the scene.
Mr Blight said: "I am still in shock, after such a life-threatening thing like that.
"I heard this almighty crack and there was this tree coming down. I hit the brakes and braced myself.
"I honestly thought that was me gone. I said my prayers. All that was going through my mind was my family.
"I opened my eyes and saw the smashed glass. I managed to open the door. There was a person behind me who ran over. The first words he said was 'I honestly thought I was going to find a dead body'.
"The fire officer came over and said he wanted to shake one lucky man by the hand."