Heligan heavy horse power used for poppy field planting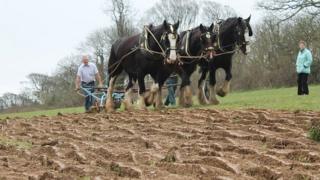 Heavy horses have been used to plough a field in Cornwall, the way it was done a hundred years ago.
A field of poppies and barley will then by sown the Lost Gardens of Heligan to mark the outbreak of World War One.
In August when the poppies are in bloom, a re-enactment of when the men of Heligan and its surrounding parishes marched off to war will be staged.
The war was seen as a turning point in the history of Heligan, with the gardens left to fall into decline.
Michael Hart, the estate's stock manager said, when the Heligan gardeners left, they wrote their names on the "thunderbox", which was the outside toilet in the gardens.
"That was the start of the decline of the gardens," he said.
The restoration of the derelict gardens at Heligan began in 1990, when they were discovered by Tim Smit and John Willis - a descendant of the Tremayne family who bought the estate in the 16th Century.
The barley and poppy field on the West Lawn will be the backdrop for the re-enactment - entitled The Day our World Changed - staged by the WildWorks theatre company, with the support of Heligan and the surrounding parishes of Mevagissey, St Ewe and Goran.