Police officer Gary Watts sacked for gross misconduct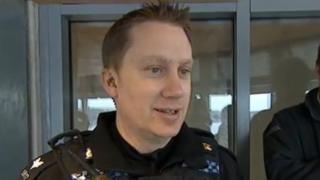 A Devon and Cornwall Police officer has been sacked following an allegation of gross misconduct.
Sgt Gary Watts, who was based in Falmouth, Cornwall, attracted national media interest after helping produce a charity fund-raising video using the pop song Gangnam Style.
The force said he had been dismissed "with immediate effect" and no criminal charges had been brought against him.
The allegation was not linked to the video, nor his use of social media.
'High standards' expected
Mr Watts was suspended by the force in May 2013.
A disciplinary hearing on Monday heard charges of gross misconduct had been proven, the force said.
Deputy Chief Constable Bill Skelly said: "We expect high standards from our officers and any officer who is thought to have breached these standards can be subject to disciplinary enquiries which can ultimately lead to dismissal.
"It is important that members of the public have confidence in the officers and staff who serve their communities and behaviour standards are extremely important in maintaining that confidence."
Mr Watts, a volunteer worker at the Hub community radio station in Cornwall, declined to comment on the dismissal when contacted by the BBC.
He confirmed that he would be speaking to the Police Federation, which represents rank and file officers.