Interpreter fears for deaf people after funding cuts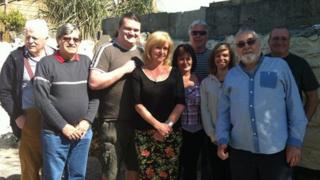 Volunteers at Cornwall's only centre for deaf people say they fear for its future as it cannot even hold meetings after funding for interpreters was cut.
Officials at the Camborne centre said at least one meeting had already been cancelled and feared more follow.
The interpreter service, costing £2,500 each year, had been paid for by Cornwall Council.
The council said it knew interpreters were vital but "significant reductions" in its funding had led to the cut.
The interpreters are needed so that deaf members of the centre's board can attend regular meetings, including those discussing finances and the annual general meeting, which are required by the Charity Commission.
'Can't work for free'
Jackie Goldie, the secretary at the centre in Camborne, said: "We have four wonderful interpreters here in Cornwall and we need them.
"We can't expect them to work for free. It's really important we find funding."
More than 100 deaf people use the services at the centre each year.
Nick Fripp, from Cornwall Council's Directorate of Education, Health and Social Care, said: "Unfortunately the significant reductions in our funding from the Government means that we are unable to continue to provide this funding directly.
"The council has a continuing duty to provide communication support, including interpreters, for deaf individuals to be able to access and receive services from Cornwall Council."
The centre said it would hold fundraising events, and look into grant schemes, to try and raise the money needed for the interpreters.