Devon and Cornwall skin cancer cases 'dramatically up'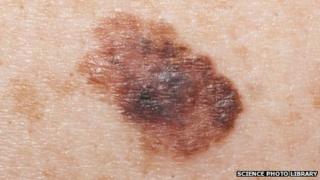 Cases of malignant melanoma in south-west England have "dramatically increased", according to new figures from Cancer Research UK.
The latest incidence rates show that about 21 people in every 100,000 are diagnosed with malignant melanoma, annually in the region.
Twenty years ago it was 11 people in every 100,000, the charity said.
A spokeswoman said the rise was due to continuing popularity of package holidays and more access to sun beds.
The latest figures show about 1,500 people develop malignant melanoma in the region every year, marking a significant change since the early 1990's when about 600 were diagnosed, the charity said.
The coastline and outdoor lifestyle enjoyed by thousands of people in Devon and Cornwall could be one of the reasons more people are being diagnosed with melanomas, it explained.
'Avoid sunburn'
A spokesman for the Malignant Melanoma Support Group at the Royal Cornwall Hospital said it had seen about 300 new referrals during 2013.
Alison Birkett, Cancer Research UK spokesperson for the South West, said: "The figures have almost doubled in the region, a dramatic increase.
"We know that those with the highest risk of the disease include people with pale skin, lots of moles or freckles, a history of sunburn or a family history of the disease.
"Sadly more and more people in the South West are being diagnosed with malignant melanoma each year." "One of the best ways people can reduce their risk of malignant melanoma is to avoid getting sunburn.
The charity said that survival rates were among the highest for any cancer, with more than eight in 10 people surviving the disease.
Jenny Parnwell, from Fowey, whose daughter died in 2001 from the condition, said: "It was incredibly quick. For her, I'm sure it was a blessing.
"We were left reeling. People don't realise how very quickly this particular cancer can overtake, especially young people."