Isles of Scilly rat removal scheme 'on track'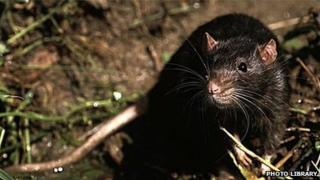 Conservationists on the Isles of Scilly say there are positive signs rats threatening the bird population have died off.
Poison has been used on St Agnes and Gugh to remove the vermin. The rats have been eating eggs of nesting birds.
The project, costing £700,000 was funded by the Heritage Lottery Fund and the European Union.
The RSPB said it would be two years before it could say the islands were truly rat-free.
Rats have not been recorded on the islands now for 20 weeks since the Isles of Scilly Seabird Recovery Project first launched.
Wildlife Management International Limited (WMIL) from New Zealand was contracted to carry out rat removal phase from November to March.
Biz Bell from the company said: "The rat removal phase is just the first part.
"Now everyone needs to help keep the islands rat-free and enable the seabirds to recover.
"According to international protocols, the islands cannot be officially declared rat-free for two years after the last sign of rat was detected."
The European storm petrel in Scilly is the only colony of the birds in England, with 1,398 pairs in 2006.
The islands are also one of only two locations in England where Manx shearwaters breed.
The overall population of seabirds on the islands declined by 24% between 1983 and 2006.
A feasibility study carried out before the project started estimated the population of brown rats on the Isles of Scilly was 34,500, with 3,100 occurring on St Agnes and Gugh.
Richard McCarthy, a St Agnes councillor, said: "WMIL have done their bit and we're really sorry to see them go.
"Now it is over to us. Getting rid of the rats has been a major triumph. Keeping St Agnes and Gugh rat-free is going to present a considerable challenge."