False honour Cornwall councillor Terry Wilkins resigns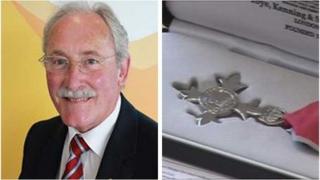 A Cornwall councillor who falsely claimed to have been appointed a Member of the Order of the British Empire (MBE) has stood down.
Cornwall Council confirmed that Councillor Terry Wilkins had resigned.
The Conservative councillor for Illogan, had appeared on the authority's website and in his own emails as Terry Wilkins MBE.
But the honours authority said it had no record of Mr Wilkins holding the title.
He said he was the victim of a hoax by a former colleague, which led him to think he had been awarded an MBE.
'Challenging times'
Fellow Illogan parish councillor Stephen Richardson, of Mebyon Kernow, said he was pleased Mr Wilkins, a Cornwall councillor since 2009, had resigned.
He said: "I am saddened that a person in whom the people of Illogan had placed their trust behaved so badly.
"However, I am pleased that Mr Wilkins has now resigned and we can begin the process of choosing someone as quickly as possible to represent Illogan in these challenging times."
He added that he had "thought long and hard about exposing Mr Wilkins' conduct".
"It was not a decision that I took lightly and it would have been very easy to do nothing when the information came into my possession."