Plaque commemorates St Ives' HMS Wave rescuers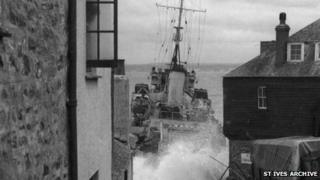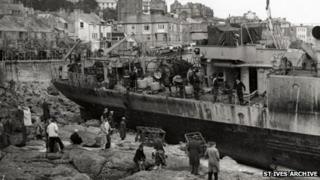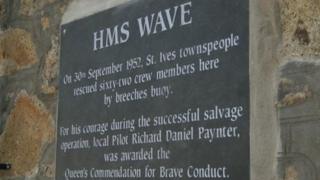 The rescue of 62 crew members on board a minesweeper in west Cornwall more than 60 years ago has been commemorated by the unveiling of a plaque.
When HMS Wave ran aground during a storm in 1952 in St Ives, residents from the town took part in the dramatic two-hour rescue.
Veterans from the ship returned to the town for the unveiling of the plaque during a special service on Friday.
HMS Wave was holed and flooded when she went ashore at Westcott's Quay.
The ship was damaged in the early morning of 30 September 1952.
The ship was evacuated and eventually winched off the rocks by two other vessels.
Brian Sandom, who was on board, said: "We didn't realise how serious it was at the time.
"I was 20 years old and didn't have much fear. But when we came on deck it was horrendous, a really bad storm.
"It was a really wonderful rescue. We were so grateful."
One resident, Richard Daniel Paynter, received the Queen's Commendation for Bravery for his efforts in the rescue.