Cornwall coach crash: Three still in hospital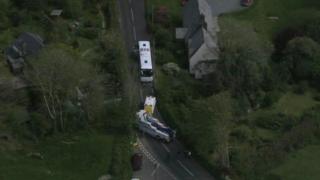 Three people on a coach which crashed in Cornwall killing two women, are still in hospital a week later.
The vehicle hit a hedge and then struck a wall at Morval, near Looe on 13 May.
One person is in a critical condition and two are described as being stable by a Devon and Cornwall Police spokesman.
The 57-year-old driver from Exeter has been released on bail after being arrested on suspicion of causing death by dangerous driving.
All 50 passengers were on an Age Concern trip from Exmouth.
One woman died at the scene while a second woman was pronounced dead on arrival at Derriford Hospital in Plymouth.
Passengers who were not seriously injured were assessed by medics at the scene before returning to Exmouth.