Truro police station to be turned into retirement homes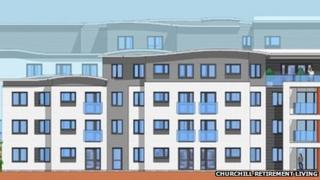 Truro police station will be knocked down and replaced with retirement homes, once new facilities open in July, police have said.
Altogether 56 one-and-two bedroom retirement apartments will be built by Churchill Retirement Living.
Devon and Cornwall police said a new station would open at the back of the Truro's County Court in July.
A police spokesman said there would still be a "very strong police presence" in the city.
Supt Jim Pearce said: "It's iconic in terms of all that glass but not good for keeping the heat in. We are starting our move from the end of June.
"All our operational officers will remain in Truro. We'll still have a very strong police presence in Truro. I have worked here for 12 years.
"To us it's an iconic site, but I will be looking forward to moving into up-to-date premises."
A spokesman from Churchill said construction work would get under way soon, with the first residents moving in next summer.