Bude sea pool reopens after storm damage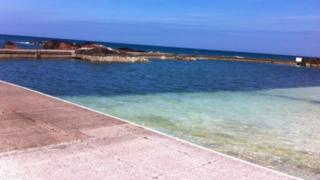 A Cornwall town's sea pool damaged by storms last winter has reopened to the public.
Storms broke and bent railings around Bude sea pool, but they have been replaced free of charge.
Stones thrown into the pool by massive waves which smashed into the coastline have been removed and the pool has been cleaned by volunteers.
The pool is filled at high tide and the water kept in the pool by a valve as the tide recedes.
A number of local firms helped restore the pool free of charge, as well as a Midlands company which donated railings.
Julian Wolford, of Stainless Studio, said: "We come to Bude two or three times every year and we saw some of the damage that had happened in the storms.
"We are a small family firm that specialises in this kind of work and we felt we could help."
Friends of Bude Sea Pool have thanked the firms for helping bring the pool back to life as a safe place to swim and an attraction for tourists.