PM quit Cornwall holidays over poor phone signals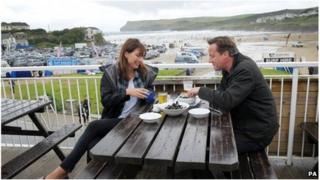 David Cameron has revealed he cut short his Cornwall holidays due to poor mobile phone reception in the county.
He returned home in early 2011 and 2013, as poor coverage hampered his updates on the fall of Colonel Muammar Gaddafi and the Syrian conflict.
Mobile phone operators could be made to share their networks in rural areas of the UK where signals are weak under plans being considered by ministers.
Some areas have just one or two of the main mobile phone networks.
'Big issue'
Others have none at all, leaving people without any signal.
The prime minister told the Western Morning News on Sunday: "This is a really big issue for people all over the country - the 'not-spots'.
"For rural communities, not being connected to super-fast broadband is a bit like not being connected to the road network. It's that bad."
Mr Cameron, who holidays regularly in the Polzeath area of Cornwall, said: "As I go down a hill into Polzeath, I know exactly which bit of the road I lose my signal.
"So it is a problem. I know where to go to get a signal, but it can be very frustrating."