RNLI warns about sand dune collapse risks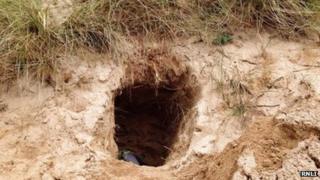 Beach users in Cornwall are being warned to be careful around some sand dunes in case they are unstable.
The RNLI said warmer weather was creating an increased risk of collapse for some dunes.
It also warned against digging caves or tunnels in dunes after a 2m by 1m (6.5ft by 3.25ft) tunnel was discovered on Constantine beach.
The tunnel was filled to prevent anybody from getting trapped, the RNLI said.
The charity said many dunes in Cornwall had "altered dramatically over the last 12 months due to the winter storms and in the hot temperatures the sand dries, creating an increased risk of collapse".