Cornwall gets Growth Deal millions for economy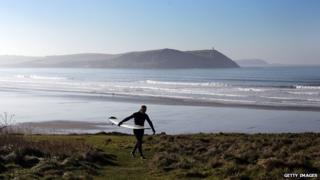 Millions of pounds of government investment has been announced for economic development in Cornwall.
Cornwall and Isles of Scilly Local Enterprise Partnership (LEP) is getting £198m from the Growth Deal next year.
The aim is create 4,000 jobs and 6,000 new homes in the county as well as improving Carkeel junction on the A38 and Cornwall's bus network.
Cycling facilities will be developed in Bodmin and access to Newquay's Enterprise Zone improved.
The government will invest £49m, with £38.4m from local public bodies and £110.6m from the private sector under plans by the LEP.
Firms welcome deal
The LEP was created in 2011 to boost the local economy and replaced the former South West Regional Development Agency.
The deal is in addition to the £520m of EU funding for Cornwall and the Isles of Scilly.
Cornwall gets the cash because it has a relatively weak economy compared with the EU average.
It has received more than than £800m in subsidies from Europe since 1999, but still qualifies for the support.
Key projects include:
Improvements to Carkeel Junction
Better access to Cornwall and the Isles of Scilly's Enterprise Zone at Aerohub in Newquay
Roads improvements in Newquay
Improvements to the cycling network in Bodmin
Improvements to the Night Riviera sleeper service including increased capacity, upgraded sleeper berths and lounge area and space for bicycles and surf boards.
LEP chairman Chris Pomfret said: "This is a great deal for Cornwall and the Isles of Scilly.
"Not only have we secured new money to help us remove blockages to growth, but we have negotiated the freedom to make our own decisions."
Toby Parkins, president of Cornwall Chamber of Commerce said: "Business will welcome this deal because it will remove barriers to growth and gives them confidence to invest."