Puppy rescued after 80ft mineshaft fall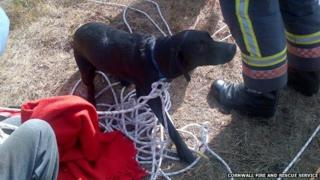 A puppy is recovering after falling about 80ft (24m) down a mineshaft in west Cornwall.
Eight-month-old labrador Aristotle fell down the the uncapped shaft at Gwinear at about 08:30 BST.
He was rescued after a firefighter was lowered to the base of the mine to retrieve him, Cornwall Fire Service said.
The Labrador was lifted out after a line was secured around him and he was reunited with his owner.