NHS Kernow governors admit group is in a 'very big mess'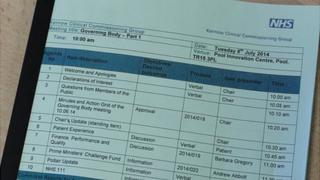 The head of the organisation that pays for most of Cornwall's health services, NHS Kernow, has admitted it is in a "very big mess".
The clinical commissioning group (CCG) for the county and the Scilly Isles has an annual budget of £700m.
Governing chairman Dr Colin Philip also confirmed the CCG's finances were in a "high-risk" situation.
The meeting was told government cuts meant it needed a new plan on how and where to prioritise spending.
'Tell everyone'
Those attending the CCG's governing body meeting on Tuesday were told there was not enough money from the government to continue all the NHS services that patients currently used.
Governing body chairman Dr Colin Philip told the meeting: "We are in a very big mess and we need to tell everyone."
NHS Kernow said it needed a new plan of where money would be spent and cut, and that was something currently being worked on.
Chief finance officer Barbara Gregory said because the CCG did not yet know what that plan is, it could not predict the state of its finances.