Cornwall man stranded in Bali after passport loss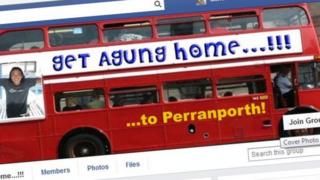 A Cornish businessman has been stranded in Bali since February after losing his passport.
Agung Mantra, originally from Indonesia, owns two shops in Perranporth, has lived there for 14 years and is a married father of one.
The family were on a winter trip to Bali but when Mr Mantra lost his passport, they had to return without him.
So far the Home Office has refused to re-issue his documents.
It says it has no record of Mr Mantra's Indefinite Leave to Remain papers, which the family says were inside his Indonesian passport.
Mr Mantra told BBC News: "When my family left I felt so empty.
"I miss my family so much. It's very hard.
"I want to see my son grow up."
'Absolute nightmare'
Mr Mantra's wife, Lesley Bain told BBC News: "We travelled to Bali to purchase stock for our shops in Perranporth. We go every year.
"My husband has been very down but he's overwhelmed by all the support. He's stranded and there's nothing he can do.
"He misses his son, misses me, and worries about the business. It's been an absolute nightmare."
Perranporth businesswoman Rebecca Jay is helping the campaign and said thousands have signed online and physical petitions.
"This is a guy who has been paying UK taxes, is married to an Englishwoman, and has a child of 13 years old at school here and runs two businesses," she said.
"It's appalling."
Mr Mantra is staying with Indonesian relatives.
Sarah Newton, MP for Truro and Falmouth, said: "I've taken this up with the ministry and the Immigration Minister [James Brokenshire] himself. I've been chasing him every day.
"I'm convinced this man has indefinite leave to remain."
A Home Office spokesperson said: "The onus is normally on the individual to provide all the necessary evidence to support their visa application.
"However we are working with Mr Mantra to conduct the necessary checks in order to establish his claim to hold Indefinite Leave to Remain in the UK."